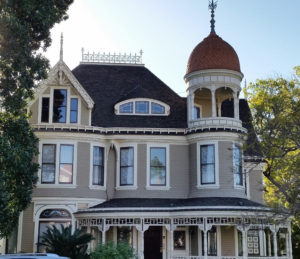 Victorian Homes
Victorian homes are commonly referred to as the Victorian Style.  This "style" is really a period in history. The Victorian era roughly corresponds to the time when Queen Victoria ruled Britain (1837 to 1901). However San Diego always lags behind architecturally. Styles are always late.
In the 1880's the railroad arrived and San Diego was off and building. The boom was on.  While Victorian style is usually considered from 1855 to 1995, in San Diego it lasted until 1915. The building started in new town and spread out, down the coast to Logan Heights  (1880 and 1890) and on to National City and Chula Vista. Building moved east to Sherman Heights and Golden Hill and north to Bankers Hill, Cleveland Heights and Middletown.
 Meanwhile small towns in the county were growing. Oceanside, Escondido, La Jolla, and of course the crown jewel Coronado. The Hotel Del was built in 1888 in the Victorian style.
Later towns such as La Mesa and Lemon Grove started to grow and build.
Victorian Architecture actually includes many different styles all of which have very distinctive features. There is Second Empire, Queen Anne, Stick, Shingle, Richardsonian Romanesque and folk Victorian.
I would like to recommend this wonderful book "San Diego County Victorians" by Eric Pahke. He has beautiful photos and great information on San Diego history. My description of elements come from his book. You can also check out my bibliography page for more sources of house information.
Second empire 1855-1885 (think French). I do not think there are any left in San Diego.
Mansard roof

Dormer windows

Patterned slate or wood shingles on the roof

Cast iron cresting

Classical pediments

Tall windows on first story
Queen Anne 1880-1900 This is what most people think of as Victorian. The towers and the turrets, the projecting bay windows with the wrap around porches. All of the decorative brackets and lacework.
Irregular roof lines

Large projecting bay windows

Square, round o polygonal towers, turrets

Patterned shingles, especially for the gable

Porches, wrap around or L-shaped

Decorative brackets and lacework on the porches and balconies.

Roof finials and cresting

Gable-roofed dormers
Stick style 1860-1890 Sharply pointed gables, spindle work, fans and sunburst.
Sharply pointed gables, steep pitched roof, multiple roof lines


Spindle work

Fans
The first buildings were in new town (downtown) almost nothing remains.